What Kanye West's Sunday Service Taught Me About Grace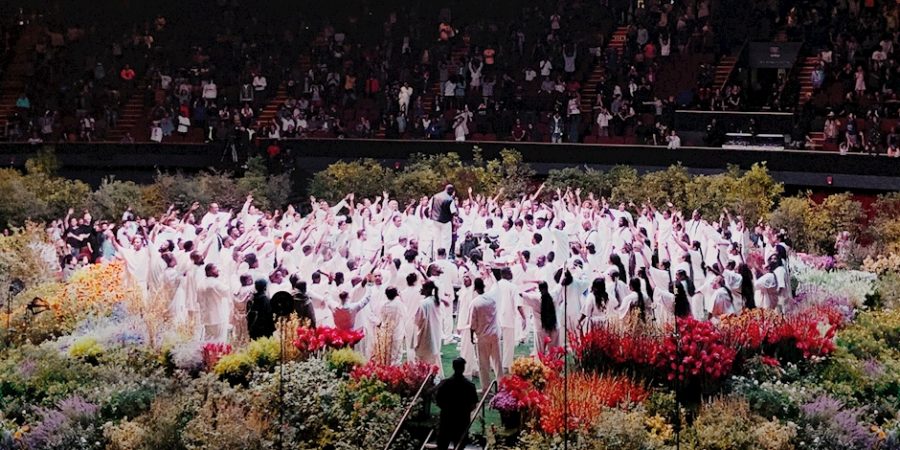 It's Sunday morning and I'm on my way to worship service—a normal part of my weekend routine except for the fact that it's 4 a.m., I'm embarking on a five-and-a-half-hour drive from Sacramento to Southern California, and the service will be led by Kanye West.
Coinciding with the release of his much-anticipated ninth studio album, Jesus is King, West released $10 tickets for his "Sunday Service" at The Forum, a 17,500-seat stadium in Inglewood that formerly hosted the Los Angeles Lakers. I bought tickets on a whim and convinced my friend Vince, who is also a bit impulsive, to attend the show with me. Groggy and a little delusional, we laugh about what a bad idea this is (we also plan to make the drive home immediately after the show).
We listen to the new album on repeat as we drive, dissecting each bar and rating his tracks as I quietly hope that the performance will paint a clearer picture of West's new status as an unlikely evangelical darling. But when we arrive at the venue, the tangle of contradictions only seems to grow.
By the time we arrive, the typical pre-concert rituals are already underway, but against the backdrop of the album's strong religious message and iconography the scene is disorienting. Masses wait in line to snag limited edition Yeezy merchandise—one crewneck with pictures of a medieval dark-skinned Jesus runs for $250—a woman poses provocatively in front of a banner that read "Jesus is King," and the unmistakable scent of California kush punctuates the air.
"He's tapping into an urban market," says Susie Seiko, an LA musician and longtime West fan. Seiko, who frequents multiple churches in the area including Hillsong Church LA, is excited about Kanye's new direction. "He's showing the world that you can believe in God and still be excited and lit about music."
Called "Sunday Service," these pop-up worship events were originally described by Kanye's wife Kim Kardashian West as a "healing experience" to "start off your week." The initial events were usually private and hosted Hollywood A-listers like Brad Pitt and Katy Perry. Back then, I couldn't help but assume that the services were more about self-promotion than sincerity, and that like many artists before him, Kanye was commodifying the church experience for clout and profit.
But following a widely attended Sunday Service at Coachella earlier this year, where the visibly distressed rapper wept during the performance, something changed. West said that afterwards he became "born again."