Rev. Dr. Khushnud Azariah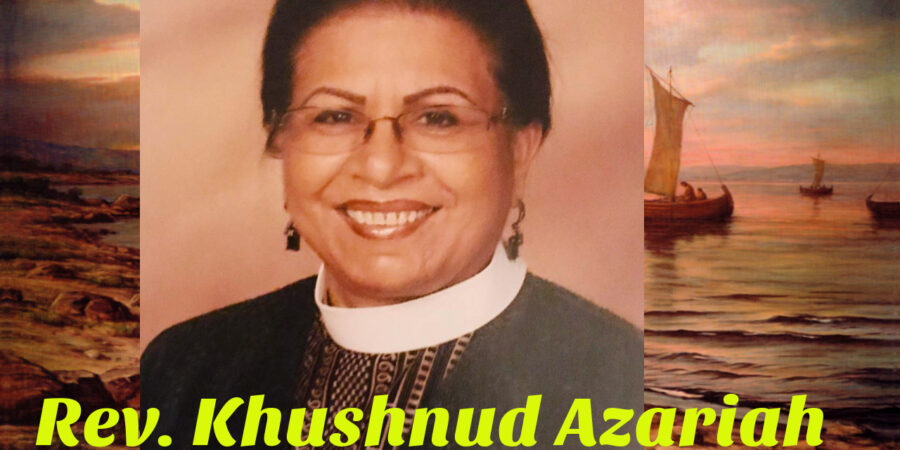 First Female Pakistani Priest Serving in Riverside.
Three years ago, the Rev. Khushnud Azariah made history when she was ordained as the first female Pakistani priest.
But the ordination ceremony for Azariah, now the vicar of St. George's Episcopal Church in Riverside, was in Southern California. The Protestant Church of Pakistan does not ordain women.
"Pakistan is a patriarchal society," Azariah said. "There are some men who are a little frightened: 'If women come in and take these roles, what will happen to the men?'"
Azariah, 62, is a fourth-generation Christian pastor. Her grandfather and great-grandfather were ministers, and her father was a bishop. Her husband, Samuel Robert Azariah, is the presiding bishop of the Church of Pakistan.
Khushnud Azariah left Pakistan in 1974 to attend a seminary in Singapore, because the two Pakistani Protestant seminaries barred women at the time.
The seminaries later opened their doors to women, but Azariah remains the only known ordained female Pakistani-born priest. Pakistani women attend the seminaries to prepare for lay-leadership roles — and in the case of some, in anticipation of the day when women can be ordained within Pakistan, Azariah said.
Although Azariah could not become a priest until she left her homeland, she said she lived out her faith through her work for women and poor and developmentally disabled children. She was appointed to the central committee of the World Council of Churches.
Azariah became one of the most prominent Christian women in Pakistan.
LEAVING HER HOMELAND
As Azariah thumbed through a binder of photographs while standing in the sanctuary of St. George's, she stopped at pictures of her shaking the hand of Pope John Paul II in Rome, smiling next to Queen Elizabeth II during the queen's 1997 visit to a school for the poor that Azariah led, and standing alongside Nelson Mandela during a visit to South Africa.
In the early 1990s, Azariah and her husband moved their three daughters to West Covina and began dividing their time between California and Pakistan. The children lived with Azariah's mother-in-law and brother-in-law.
The primary reason the couple wanted their daughters to grow up in the United States was the pervasive discrimination against women and Christians in Pakistan, Azariah said.
Christians comprise less than 2 percent of the population in overwhelmingly Muslim Pakistan.
A Christian girl — believed to be as young as 11 and developmentally disabled — is currently charged with blasphemy and could face the death penalty if found guilty of burning pages of the Quran, allegations her attorney says are false. On Saturday, she was released from custody on bail. A Muslim cleric was recently arrested and is accused of framing the girl in an attempt to purge the girl's neighborhood of Christians.
Azariah said the allegations are part of a longstanding repression of Christians in Pakistan.
She and her husband have many Muslim friends and have worked on interfaith efforts with Muslims. But some hard-line Muslim fundamentalists believe it's impossible to be both Pakistani and Christian, Azariah said.
Christian churches and charities have been bombed. At least eight people were killed and 45 homes burned in a 2009 anti-Christian rampage.
Her husband has received death threats for speaking out against the blasphemy law, Azariah said.
Samuel Azariah still lives in Pakistan. But in 2001, Azariah moved to California full time after her daughters asked that she spend more time with them.
Azariah also wanted to help support her children's education. She began working first as a social worker and then a foster-care-agency administrator in the Los Angeles area and the Inland Empire.
Azariah continued her studies at the Claremont School of Theology, graduating in 2005 with a doctorate in Christian religious education.
She never thought of becoming a priest. But in 2009, her husband traveled to Anaheim for a national Episcopal conference. He began chatting with J. Jon Bruno, bishop of the Episcopal Diocese of Los Angeles, which includes Riverside.
"He said, 'Well, is your wife interested in serving the church?'" Khushnud Azariah said.
In 2009, with her husband looking on, Bruno ordained Azariah into the priesthood during a ceremony in South Pasadena.
Azariah said resistance to women's ordination in Pakistan is primarily from older church leaders, reflecting conservative cultural attitudes and interpretations of the Bible. Younger Pakistani clergy are more open, she said.
When Azariah visited Pakistan a few months later, she attended multiple celebrations of her ordination.
"My ordination over here sent a great message back home," she said. "I was surrounded by so many wonderful women. They felt God was with us in this struggle."
Azariah become an assisting priest at a San Gabriel church in 2010. This year, Bruno selected her to lead St. George's, where she has been since May.
Serving the 90-member congregation near UC Riverside is a far cry from taking part in an ecumenical meeting at the Vatican.
But Azariah said she has always dedicated her life to assisting those in need, whether they are poor and disabled children in Pakistan or parishioners at St. George's.
"My basic calling is to serve the people — people who need love and support," she said.
St. George's parishioner Rose Versace, 47, of Calimesa, said Azariah's life story has made her more aware of the repression Christians face in parts of the world.
"Part of what it does for me is to appreciate the freedom we have to worship without fear, which most Americans take for granted, and that that is not the case for much of the world," Versace said. "She's helping us appreciate that in a very new way."
Azariah and her husband see each other several times a year, either in California, Pakistan or somewhere between.
But living apart from her husband for 11 years has been difficult for Khushnud Azariah. The couple is planning to reunite one day — either through his moving to California or her returning to Pakistan.
"God has given me so many surprises," she said. "I don't know what he has in store for me. Wherever he will lead me and guide me, I will go."